Frame:: All models are made with extra heavy duty frames constructed of 6 x 10 x ½ inch structural steel tubing. Each model is angled for maximum soil action with a minimum draft load.

Hitch: The hitch is made of 6 x 6 x ½" steel tubing.

Shanks: The shanks are of a special curved design mounted on the rear of the frame to give maximum depth and aide in alleviating trash build up. The shanks are 1-1/2" inches thick and have a full 29, 33, or 37 inch clearance between the frame and point for maximum ripping depth.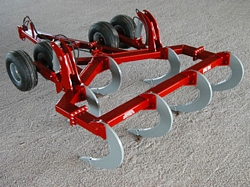 Spacing: Multiple spacing is available to meet all farm requirements. 24" is standard.

Bushings/Shear Bolts: Both mounting ears and shanks are protected with special sets of hardened bushings and 1" grooved shear bolts.

Hydraulic Cylinders: consist of 5" x 16" cylinders with 2 ½" shafts.

Wheels And Axles: The axles and tires consist of 24,000 split axle assemblies and 14L-16.1 12 ply tires.

Points: To obtain maximum durability the points have been cast with a special high chrome iron.

Wear Shins: Replaceable leading edge wear shins for extending the life of each shank. All wear shins are cast with the same special high chrome iron. Shanks come standard with high chrome wear shins.
Models:
DWK-550-S Five Shank
DWK-570-S Seven Shank
DWK-590-S Nine Shank